As part of our mission to enrich Annapolis with professional NYC theatre, Infinity is proud to bring a children's show as well as artistic workshops to Anne Arundel County and surrounding areas each summer - in order to help teach children the infinite possibilities found only in theatre!

We also offer a full summer EMC Internship Program for college-aged students, as well as a part-time Internship for high school students. For more information on any of our programs, contact Director of Education, Robin Cannon Colwell.
Each summer, Infinity brings theatre for young audiences to Anne Arundel County!
Past productions include: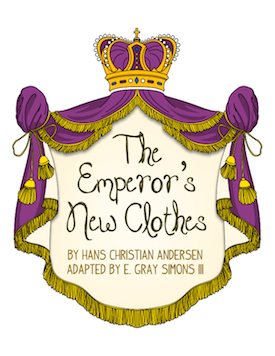 2014 — The Emperor's New Clothes
By Hans Christian Anderson
Adapted by E. Gray Simons III
Grab your royal attire and come hear the latest announcement from the News of the Realm… The Emperor loves fashion! He will spend a fortune in gold and gems for a weaver to create the most fabulous robe ever seen! However, the crafty weaver claims that his beautiful fabric is invisible to those who are hopelessly witless. Will the kingdom be able to see the Emperor's new robe? Will the swindling weaver be found out? Based on the classic folktale by Hans Christian Anderson, this story challenges the imagination and questions perception of leadership and truth, through the eyes of a child. The comedy mounts through outrageous performances, audience participation, original music, and lively dancing. THE EMPEROR'S NEW CLOTHES is a royal romp and fabulous fashion extravaganza for all ages!
By E. Gray Simons III
Directed by Elizabeth London
Original Music by Clayton Colwell
---
Robin Cannon Colwell (Director of Education) played The Mute in Infinity's production of THE FANTASTICKS.  Robin discovered her love of teaching in 2005 through the Berkshire Theatre Festival, where she had the opportunity to teach in public schools, direct numerous after-school programs and summer camps, and choreograph shows for kids.  Robin has been teaching theatre, music, and movement in New York City since 2008 for Arts For All - a non-profit arts outreach organization. She also teaches music and dance at Long Island City Kids - an enrichment center for early childhood development. Robin can be found entertaining children all over NYC at birthday parties and events as "Captain Robin" with her hot pink guitar "Pinkerton." A very shy Robin discovered her love of being on stage at the age of 6, and aspires to give kids the same confidence and skills that she learned early on through performing. Robin holds a BFA in Musical Theatre from The University of Mississippi and is currently working towards her Masters in Educational Theatre at The City College of New York. Member Actor's Equity.