On-stage romance, drama, and comedy express the real-life passions of husband and wife theatre team Anna Roberts Ostroff and Alan Ostroff.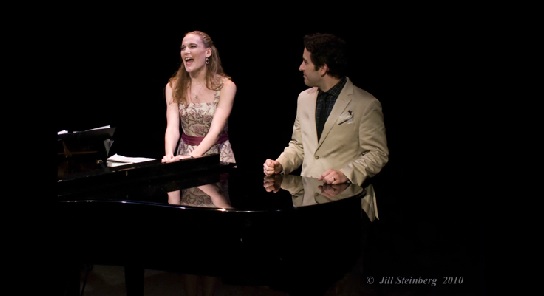 Early in their careers, Anna and Alan's passion for performing led them to theater jobs all over the country. For a couple, acting in more than one or two plays together is uncommon, but Anna and Alan kept getting hired together by different theatres over the course of four years. It was as if fate was re-uniting them for additional productions.
After performing in shows all over the country, the couple developed their skills as producers, directors, and writers in New York City. In New York, Alan wrote and produced his first play, Tradition. The backstage Jewish comedy was one of the top grossing plays at the 2006 NYC International Fringe Festival. In their biggest triumph of all, Anna and Alan married in 2008, in Anna's hometown, Annapolis, MD.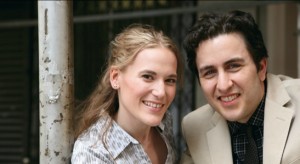 The producers now bring the Broadway and off-Broadway experience to local productions of many wonderful shows to come.
"Infinity Theatre founders Anna & Alan Ostroff are enlivening the local performing arts community this summer season." - 2011 review of Little Shop of Horrors, Mary Johnson, Baltimore Sun
"Anna Roberts Ostroff & Alan Ostroff have consistently brought in New York caliber high-quality performances to the modest, affordable, and accessible setting." - 2012 review of Dames at Sea, Debbie Jackson, DC Theatre Scene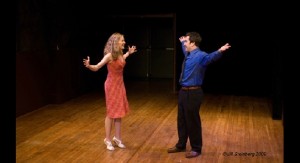 "Anna Roberts Ostroff & Alan Ostroff never cease to amaze audiences with their choices of classics; bringing them to the stage with a vibrant new life and making them fit into the modern demands of professional New York City quality theatre. Their passion and commitment to the company reflects in every cast, crew, and design team member selected to work in this musical; save for driving into Annapolis you would never know you were not seated in a Broadway theatre staring at a Broadway stage. The standards at which they set their productions are tremendously high and they always land well above the mark of professional expectation." - 2013 review of She Loves Me, Amanda Gunther, DC Metro Theater Arts
ANNA ROBERTS OSTROFF & ALAN OSTROFF are a Tony Award winning husband and wife producing team who serve as the Co-Producing Artistic Directors of Infinity Theatre Company in Annapolis, MD. Anna & Alan studied theatre at NYU Tisch School of the Arts, and spent several years performing professionally all over the country.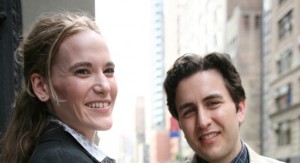 Their producing career began with the Fringe Festival's 2006 presentation of Alan's comedy TRADITION, which was one of the highest-grossing shows in that year's festival.  This was followed by many benefits and Theatre for Young Audience tours, exclusively for the non-profit arts outreach organization Arts For All, of which Anna is the Founder/Executive Director and Alan serves on the Board and is the former Chair of the Programming Committee.  
Anna and Alan have associate produced two Cardinal Theatrical shows in Minneapolis, MN - the hit runs of RENT and THE ROCKY HORROR SHOW staged at the Lab Theatre.  In 2010, the couple formed Infinity Theatre Company, a regional theatre bringing NYC talent to Annapolis for a summer season of musicals, where they have since set the standard for excellence in local entertainment, producing THE FANTASTICKS, MY WAY - A MUSICAL TRIBUTE TO FRANK SINATRA, LITTLE SHOP OF HORRORS, SISTERS OF SWING - THE STORY OF THE ANDREWS SISTERS, DAMES AT SEA, ALWAYS...PATSY CLINE, and SHE LOVES ME.  
The Ostroffs' first foray into Broadway producing, the revival of PIPPIN following an acclaimed run at American Repertory Theatre, opened at the Music Box Theatre in April 2013 and won the Tony Award for Best Musical Revival.  Anna is an Annapolis native and 1999 graduate of Broadneck High School, and Alan is originally from Southern New Jersey.
Additional Info